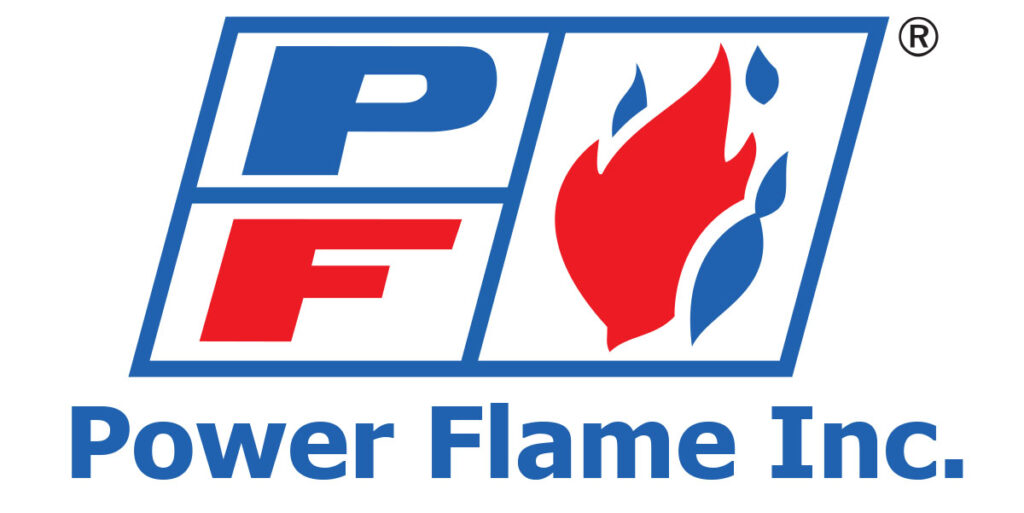 Power Flame is a premier manufacturer of combustion systems for commercial, industrial, and process applications
Featured Products
Power Flame Type C Burners: Model CGO
Power Flame Type C Burners are designed to fire a wide range of gaseous, as well as #2 or similar distillate fuels.
The Model CGO dual fuel burners provide operating dependability and maximum combustion efficiency, even without the aid of refractory or other costly devices.
The flame retention firing head incorporates a single nozzle pressure atomizing assembly for liquid fuels and a nozzle mix multiport combustor for gaseous fuels.
The unique air sandwich design of the firing head produces full range stable performance in both positive and negative combustion chambers.
Operating system adjustments have been minimized to provide trouble-free start up and operating performance.
The modular design provides flexibility for a wide range of optional features, such as premix and low gas pressure firing heads for limited size combustion chamber configurations or low gas pressure conditions.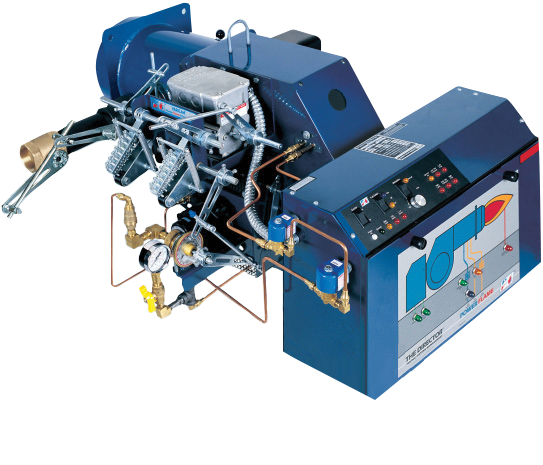 As with all Power Flame packaged combustion systems, these burners are factory fire-tested to ensure cost effective installation and start up.
Shop Power Flame Type C Burners
Related products: If you're interested in alternative fuels, Packaged Liquid Waste Fuel Burning systems employ the basic design principles of the Type C dual fuel burner and are also available.
Power Flame Director® SCS Supervisory Control System
The Director SCS is a fully integrated system that gives you complete control and supervision of your burner and boiler operations and helps remove service guesswork by graphically reporting system status.

Features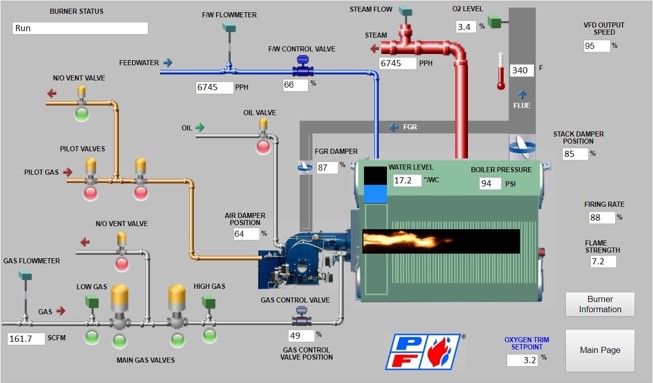 10 inch color touchscreen (standard) that displays all essential boiler and burner information at a glance
Configurable burner management control
Configurable analog I/O for meters, etc.
Multiple flame monitoring options
Flue-gas recirculation control and monitoring
Ability to trend information, such as boiler pressure and load, combustion efficiency, flame signal strength, lockout and alarm history, number of start-up cycles, and total system run time
Optional features that increase efficiencies, such as O2 Trim system, Variable Frequency Drive (VFD), draft control, modulated feedwater controls, and integrated lead-lag
Customized annunciation
Modbus, BacNet TCP-IP communication for interface to building/plant automation systems
Tamper resistance with multi-level password protection
and more
The Director SCS is powered by Honeywell's SLATE PLC control system which enables superior combustion control and total system efficiency.
To purchase or learn more about the Director SCS, contact Arctic Boilers at info@arcticboilers or call 780-955-2723
Why Power Flame
Arctic Boilers is proud to be an official Power Flame distributor in Alberta for a number of reasons:
Arctic Boilers is the official partner with Power Flame in Alberta, Canada. If you are located in a different area, we would be happy to redirect your purchase to your local area representative. However, please don't hesitate to contact us with your questions wherever you are.
Parts always available
Power Flame uses the "Non-Proprietary" component approach in the construction of its complete product line. Virtually all of the purchased components, such as Flame Safeguard Programmers, Gas and Oil Valves, Motors, etc., are standard components of their respective, nationally recognized, manufacturers. As a result, replacement components are readily available to us through our supply and network. So, wherever a Power Flame burner is installed, replacement parts are immediately available. That means no long downtime waiting for special components that only the burner manufacturer can supply.
Easier retrofits
The Power Flame burner's modular design allows them to provide a wide range of burner, panel box and component configurations at highly competitive price levels. In addition, the design provides the opportunity to produce extremely non-standard burners within lead times that their competitors consider attainable only for their standard configurations. When short lead times are required for non-standard retrofit activities, Power Flame has the edge.
Market leader
Power Flame is an established manufacturer for over 50 years. They are a prime supplier for several of the major boiler, air heater, and specialty heat exchange manufacturers, as well as a market leader in innovation, quality, and safety.